Bishops confident on Cause for Venerable Suzanne Aubert after Rome visit
by Rowena Orejana
New Zealand bishops came away "feeling very hopeful" after a discussion with the prefect of the Congregation for the Causes of Saints, Cardinal Giovanni Angelo Becciu, on the cause of Venerable Suzanne Aubert.
New Zealand Catholic Bishops Conference secretary Bishop Stephen Lowe of Hamilton described the meeting as "positive". Auckland Bishop Patrick Dunn, Wellington Cardinal John Dew, Christchurch Bishop Paul Martin SM and Dunedin Bishop Michael Dooley were present at the meeting.
"As the New Zealand bishops, we were very well received at the congregation and came away feeling very hopeful," Bishop Lowe said.
He said Cardinal Becciu, as well as the cardinal's assistants, said that "the 'heroic virtues' of Suzanne have been approved and that they are very pleased with the diocesan enquiry into a miracle".
"The extensive account of the possible miracle is now being translated and will then be looked at by two medical experts," Bishop Lowe explained.
"If one of the two is positive about this account, it will then be referred to a medical board. If that in turn is positive, a theological commission will then examine it. Then, the members of the Congregation for the Causes of Saints will also look at approving it."
The last step, according to Bishop Lowe, is to send the findings to the Pope. Then New Zealand will have its first "Blessed".
"No timeline has been given for this, and it could still take quite some time. However, we were assured that the congregation are taking particular interest in this case.
"Cardinal Becciu actually said to us that he is very interested in going back to New Zealand and hopes that this will happen in his time as prefect," Bishop Lowe said.
NZ Catholic
November 3-16, 2019
Featured image is from timeline photos Bishop Steve Lowe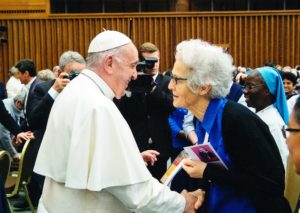 ---